Glock 43 vs Springfield Hellcat: Handgun Comparison
The Glock 43 and the Springfield Hellcat are two of the most popular handguns in the United States. Both are ultra-compact, come from reputable manufacturers, and have features generally expected from much larger guns. These pistols have found favor with the concealed carry crowd, and with law enforcement officers, both in plainclothes roles and as backups for uniformed officers. These two guns are very similar, but there are some important differences between these two pistols.
In this article, we will take a look at the similarities between the Glock 43 and the Springfield Hellcat. We will also fully explore the differences, to allow you to make an informed buying decision. We will start by saying both are outstanding firearms and either will serve you well.
A Deep Dive into the Springfield Hellcat
The Springfield Hellcat came along in 2019. It is a part of the new crop of "micro-nines" – very slim, ultra-compact, 9mm pistols boasting double-digit magazine capacities. The micro-nine boom was started by the Sig P365, and all pistols in the genre owe their lineage to the Sig that started it all. The Hellcat is also well-contoured for concealed carry. The slide has fore and aft cocking serrations and is beveled near the muzzle for easy holstering. The controls are big and easy to use, and the recoil is very manageable.
Unlike older micro-sized pistols, The Springfield Armory Hellcat comes standard with an 11-round magazine capacity. It has a very concealable, three-inch barrel, which is both comfortable for concealed carry, yet still offers good velocity and sight radius. The grip texture is excellent: subtle and comfortable for carry, yet has plenty of purchase on the range. It additionally features a thumb rest and supports the use of extended magazines. Springfield also offers lengthened Hellcat magazines in 15- and 17-round capacities.
The Springfield Hellcat also has the benefit of coming with sights that are really, really good, right out of the box. And not just good for a "micro-compact," good for any pistol. They are actually made of steel, which means they are very robust. The rear sight has a deep U-notch, and the front sight has a large, green dot that mates well with the U-notch. Springfield calls these sights the "Tactical Rack U-Dot" because of their configuration, but also because the ledge of the forward edge of the rear sight allows the slide to be racked one-handed.
If you are a pistol-mounted optic shooter, there is a Springfield Armory Hellcat for you. It is called the OSP for Optical Sight Pistol. It is pre-cut to accept many common red-dot sights. The Springfield Hellcat is exemplary of the modern, micro-compact pistol: shootable, boasting enviable capacity, sacrificing nothing in size. Additionally, Overwatch Precision is about to release a FALX and TAC kit to make your Springfield Hellcat even better. This will provide a curved and flat-faced trigger option as a direct drop-in replacement for your old trigger that reduces pre-travel as much as possible without sacrificing firearm safety.
A Detailed Look at Glock 43
Glock handguns are some of the most popular pistols in America. The Glock 17 is the number one handgun in law enforcement holsters in the United States. The slightly smaller Glock 19 is a perennial best-seller and favorite of savvy concealed-carrying Citizens. There are many other sizes and calibers of Glock pistols. One that gained immediate popularity upon its release was the Glock 43. The Glock 43 appealed to an entirely different market segment: those looking for an ultra-compact 9mm pistol with the familiar Glock controls and feel.
The Glock 43 is the second pistol in Glock's "Slimline" series of handguns. These guns are single-stack pistols that are very flat and value concealment above all else. The Glock 43 comes with a 6-round magazine, making its capacity much more in line with traditional super-subcompacts than the new micro-nines. This has the benefit of giving it a very short, thin grip, but the capacity is a bit lacking. Other than the small size, the looks are traditional Glock.
The Glock 43 has a 3.41-inch barrel. This still makes it incredibly compact, while giving it a slight velocity and sight-radius edge over many competing pistols. The Glock 43 comes standard with Glock's plastic sights. Optional upgrades to steel sights or night sights are available, but honestly, we're a little put out by having to upgrade to sights that meet the bare minimum standard of "iron sights."
The Glock 43 has the benefit of being a scaled-down version of existing Glocks. This means that the grip angle is the same, the controls are the same, and the sight picture is the same. This makes it easy to transition from one pistol to another –a cop's backup gun for example – a benefit that is hard to overlook but can be neutralized by the right holster. The Glock 43 also shares Glock's legendary reliability. It's not a perfect pistol; very few folks rave about how good Glock triggers are. Fortunately, Overwatch Precision offers a number of upgrades to Glock triggers. These include complete trigger kits, as well as a trigger springand a better trigger shoe.
Now that we've taken a look at the Springfield Hellcat and the Glock 43 separately, let's compare the two of them.
Comparing the Springfield Hellcat and Glock 43
Our comparison of the Hellcat and G43 will begin with some similarities. First, these pistols are very compact. They likely appeal to the same market segments. They are both renowned for being accurate and reliable. Beyond that, they are very different guns so let's get into them.
First, magazine capacity is hard to overlook as a consideration. The Hellcat is clearly the winner in this arena. Its standard capacity is 11+1 (10+1 for restricted states) while the Glock's is only 6+1. The Hellcat also has the advantage of factory magazines in capacities of 13, 15, and 17 rounds. One of these can be used to extend the grip a bit or just carried as a spare. Capacity isn't everything…but it's definitely something.
Both of these pistols have a good magazine release, and both are reversible for left-handed shooters… so that one is a wash. Neither of these pistols has an ambidextrous slide release so again… that's a wash. Both factory triggers are so-so, but both can also be upgraded by Overwatch Precision triggers so again… that's a wash.
Let's compare the sights of the two. If you pick up both at a gun shop the Springfield Hellcat will wear functional, steel, high-visibility "Tactical Rack U-Dot" sights. The Glock 43 will wear plastic "dovetail protectors." This is a clear win for the Springfield. The Springfield Armory Hellcat is also available in an optics-ready version. The Glock 43 is not available optics-ready, a big consideration for those of you considering dipping a toe into the pistol-mounted optics game. Although, this last one is admittedly a matter of personal preference.
Finally, the Hellcat comes with an accessory rail. This allows the mounting of lights/lasers/etc. under the barrel. A light can transform a good carry gun into a capable home defense gun, and Streamlight does make a version of the TLR-7 Sub for the Hellcat. The Glock 43 wears no such accessory rail. To top it off, the Hellcat is also dimensionally smaller than the Glock 43 in height and length.
Glock 43 vs Springfield Hellcat: Which is Right for You?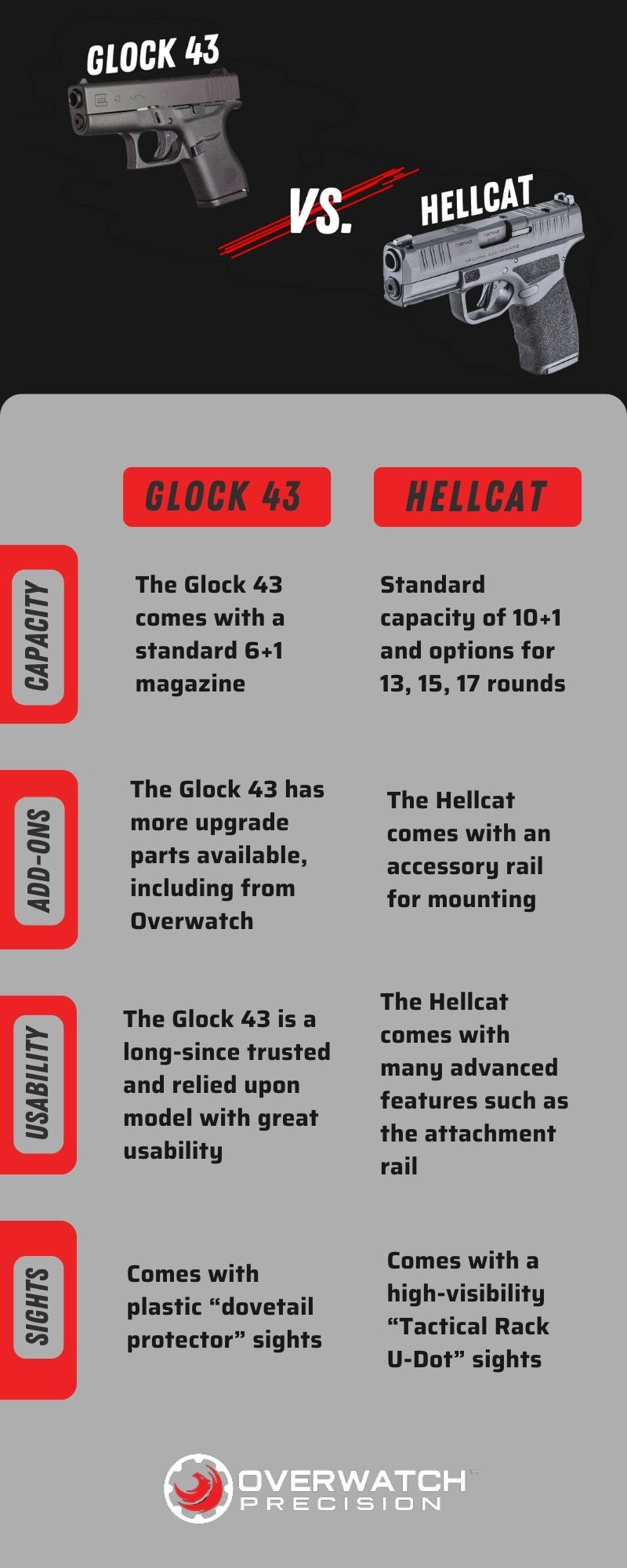 The Glock 43 and the Springfield Hellcat are both reliable, accurate pistols. Both are ideal for the concealed carry market. We don't discount the value of personal preference – having a gun you like and are willing to train with is important.
The Springfield Hellcat has a lot going for it. First, the capacity is hard to overlook, especially in a smaller gun. With many other manufacturers making incredibly compact double-stack pistols, Glock seems a little set in its ways. That's not to say that the G43 isn't a great pistol; it certainly is.
Secondly, the G43 just is what it is. The lack of an accessory rail, the inability to mount optics, and no extended magazines make it less adaptable than the Springfield Armory offering. This is not to mention the excellent sights of the Hellcat in comparison to the Glock's plastic sights that need immediate replacement. Again, we are nit-picking here, the Glock 43 is a fantastic and reliable pistol that is the first choice of many.
There is one other X-factor worth mentioning: time in service. The Glock family of pistols has been in military and LE service, across the globe since Captain Crunch was an Ensign. This service life has built a tremendous reputation that won't be dethroned overnight. We also have deep institutional knowledge about Glock pistols, familiarity with the manual of arms, and trust in the brand. That counts for a lot, and it will be a decade or two before we have the same confidence in SA.
Again, though, we don't discount personal preference. Both of these pistols have a lot to offer. If you do choose to go with the Glock 43 – or already own one – Overwatch Precision offers a number of upgrades including our TAC Trigger which reduces pre-travel and overall travel and gives you an exceptionally responsive trigger. We also offer several other drop-in trigger kits to make your G43 more capable. A smoother trigger means better accuracy, faster follow-up shots, and more confidence in your carry pistol.
Whether you opt for the reliability and trustworthiness of the Glock 43 or the advancements made to the Hellcat, Overwatch Precision is here to make sure your firearm is performing to its absolute potential.